You Can Now Look Forward To Newly Remodelled Rooms in Miramare II
2. 1. 2017 -
An extensive remodelling of Superior class rooms will take place during January 2015 in the Miramare II spa hotel.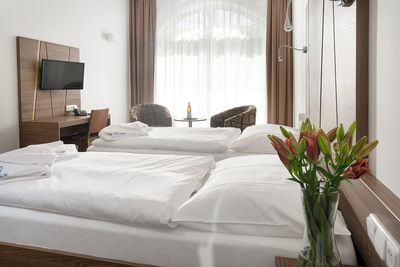 Spa hotel Miramare Luhačovice - room superior
"The reason why we are remodelling is to be able to provide maximum comfort to our guests as well as improve the interior of the rooms and bring them up-to-date." says Petr Válek, manager of the Miramare Luhačovice spa hotel. Remodelling will include replacing furniture, doors, carpets, lighting and televisions. We will also replace old bathroom tiles with new ones along with radiators, washbasin tables, showers, baths, toilets … simply everything will be replaced.
Comfort For Our Guests
In Miramare Luhačovice we strive to meet all the needs of our current and future guests and this is why during the remodelling of the superior class rooms, the comfort of our guests will become our main priority. Hotel manager Mr. Petr Válek has this to say: "Remodelling will help us satisfy the ever increasing requirements of our current guests and thanks to modern and comfortable furnishing, we will be much more competitive and attract new guests. Thanks to a new and variable room design, we will be able to flexibly offer double or single rooms. 
Please contact our sales department for your stay in our newly remodelled rooms.