Carbonated water baths help create the perfect relaxation
28. 5. 2018 -
Cold and damp weather, rain, little sunshine ... this can all weigh you down and tire you out. Come and recuperate at the Miramare Luhačovice spa hotel and treat yourself to soothing carbonated water baths .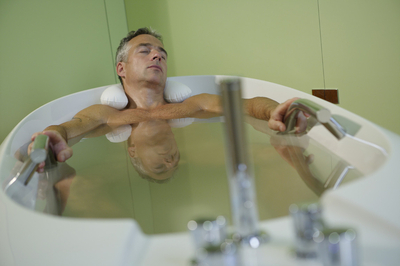 Natural carbonic bath - spa hotel MIRAMARE
Many take great comfort from a nice hot bath. The carbonated water baths that we offer in our spa hotel provide the perfect relaxation and spa therapy. They are ideal for warming up the body, but also for sublime relaxation and therapy. This water procedure takes place in natural mineral water, 33-36 ° C, for 20 minutes. The body surface absorbs CO2 - carbon dioxide, which improves blood circulation under the skin, but also the blood supply to internal organs. The procedure also reduces blood pressure. 
Aroma bath
You can also try the aroma bath, a water procedure in natural mineral water with additives, 36-38 ° C, 20 minutes. The additive may be a herb oil, Cleopatra-orange oil, sea salt, oats, peat extract or Solfatan. Aroma bathes enhance the effect of the carbon water bath with the additives, which may have a sedative effect or a soothing effect on skin disorders as well as respiratory and musculoskeletal diseases - it always depends on the type of additive.
So, don't hesitate and come to us!