Luhačovice spa is the winner of the best european destination competition
25. 11. 2019 -
Since this November, Luhačovice Spa has been a holder of the prestigious reward EDEN (European Destination of Excellence). It won through to six finalists to the forefront of the European competition which concerns the best destination for sustainable tourism.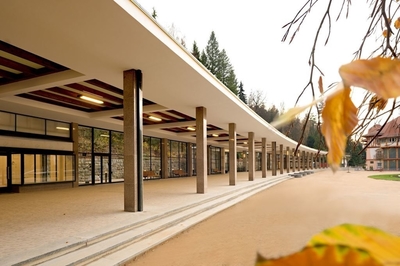 Luhačovice Spa New Colonnade (photo Luhačovice, a.s.)
MISSION OF THE PRESTIGIOUS COMPETITION EDEN
It includes finding places that lie off the main tourist routes and are unique and have a remarkable atmosphere, taking care of natural resources and sustainable tourism. This is a brief description of the mission of the prestigious EDEN competition, which is announced every two years by the European Commission, and the national coordinator of the competition is agency CzechTourism. 
Luhačovice Spa has fought through among six finalists and has been awarded the highest prize. Resort Svatá Kateřina and Spa Teplice are behind.
SPA, WELLNESS AND NATURE HAVE SCORED
The Luhačovice project appealed to the jury mainly for the care of natural resources and the connection of traditional and modern balneology and for the effort to reduce the regional disparities of the destination through tourism. The jury, composed of representatives of the Ministry for Regional Development, agency CzechTourism, the Association of Medical Spas, the Association of Spa Places and the University of Economics, visited Luhačovice in the summer. More information about EDEN
VISIT LUHAČOVICE - THE BEST EUROPEAN DESTINATION
Take care of your health, indulge in relaxation and enjoy body care. In the Luhačovice Spa everyone will find something for themselves, so do not hesitate to discover the beauty of this region at any time. I'm interested