The Valaška Villa has been certified as a 4-star spa hotel
9. 1. 2020 -
We strive to constantly improve our hotel services and facilities for our guests. To get a confirmation of our efforts, we have applied for the 4-star spa hotel status awarded by the Czech Association of Hotels and Restaurants. It covers 270 evaluation criteria.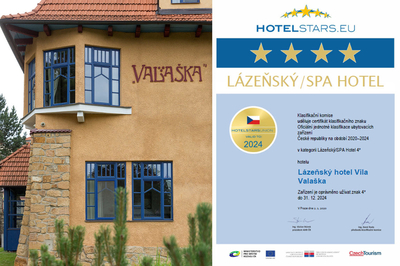 VILA VALAŠKA - certification in category of 4-star spa hotel
The 4-star spa hotel certification is not only a reward for our efforts but primarily it is a clear sign for our guests that the Valaška Villa provides high-quality services.
Certified 4-Star Spa Hotel
Did you know that in the Czech Republic hotels can assign themselves any number of stars as they see fit? We decided to head the opposite way and joined 30,000 European hotels that respect uniform rules for assigning stars. All such accommodation facilities bear the Hotelstars mark, and all of them guarantee the same scope of services and facilities. In addition, the Hotelstars classification is a well-established system in 17 European countries. Show me more
The Valaška Villa not only provides professional services but the staff also take great care of the guests and protect their privacy. Accommodation is offered in only 9 tastefully designed apartments. Show me more